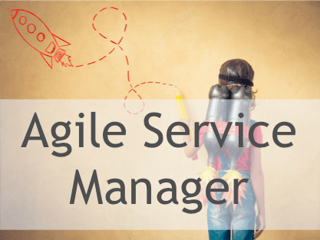 This sixteen (16) hour course provides an introduction to Agile Service Management –- the application and integration of agile thinking into service management processes and process design projects. Agile thinking improves IT's effectiveness and efficiency and enables IT to continue to deliver value in the face of changing requirements. This class also includes experiential exercises. Class culminates with an independent certification exam. Successfully passing (65%) the 60 minute exam, consisting of 40 multiple-choice questions, leads to the Certified Agile Service Manager Certificate.
Learning Objectives
A Certified Agile Service Manager (CASM) is the operational equivalent of a Certified ScrumMaster (CSM). Working together, ScrumMasters and Agile Service Managers can instill agile thinking into the entire IT organization as the basis of a DevOps culture.
The learning objectives for CASM include an understanding of:
What is means to "be agile"
The Agile Manifesto, it's core values and principles
Agile concepts and practices including ITSM, Kanban, Lean and DevOps
Scrum roles, artifacts and events as it applies to both products and processes
The two aspects of Agile Service Management

Agile Process Improvement – ensuring processes are lean and deliver "just enough" control
Agile Process Design – applying Agile practices to process design projects
Course / Student Materials
Sixteen (16) hours of instructor led training and exercise facilitation
The Agile Service Management Guide and the Scrum Guide (pre-class resources)
Learner Manual (excellent post-class reference)
Participation in unique assignments designed to apply concepts
Learner Personal Action Plan
Study aids, sample exams and exam preparation
CASM exam

Material for this course will be provided as downloadable soft copy files that can be viewed on a variety of devices. Attendees may print a hard copy of the files in whatever format best meets their needs, and can use the files under the Terms of Use as indicated on the material.

This Ranger4 training course is developed by the DevOps Institute (DOI). Ranger4 is a DOI Registered Education Partner. Certifications are issued via Peoplecert. All online courses are provided in partnership with IT Training Zone Ltd (ATO).